Volvo Sedans, years '83-'90
Drivers Side (Port side)                                                             Passenger Side (Starboard side)
Wire color    PIN No.     Function                                     Wire color.                      PIN No.                 Function
Black                1              Backup Lts                                                                   8             Elect. To backup
Black                2              Backup Lts to Pass side                         Black                7                  Backup Lts
                        3             No electrical                                                                  6                  No Electrical
Green               4             Directional                                             Blue                 5                  Directional
Yellow/gr          5             Brake lights                                           Yellow               4                  Brake lights
Red                  6             Running Lights                                     Brown               3                  Running lights
White               7             Fog lights                                              White                            2                  Fog lights
White               8             Foglight wire to Pass.                                                     1                  Elect to Fog Lights
In 1991
Pin 4 went from Green to Blue/brown                                         Pin  3 from Brown to Brown/white
                                                                                                Passenger tail light layout
                                                                        1156                 1156                             1156
<![if !vml]>

<![endif]><![if !vml]>

<![endif]><![if !vml]>

<![endif]><![if !vml]>

<![endif]><![if !vml]>

<![endif]>                                                                       
FOG               WHITE BACKUP         AMBER_DIRECTIONAL 
<![if !vml]>

<![endif]>                                                                                   
                                                                        RUNNING                NC                      BRAKE/RUNNING
<![if !vml]>

<![endif]>                                                                       
                                                                        97                     PCB FOR RUNNING LIGHTS         1157
STYLE B TAILIGHT
White socket Passenger side                       
Hardwiring the tail lights
On the Sockets, I put my wires on the Top side of the Contact tabs. I had to bend the Tabs down slightly, Solder the wires on, then push back up. I didn't wrap them, just laid the wire on to of the Tab.
On some of the tabs, The Tinned surface did peel off as soon as I heated it, with a lot of added Flux, it wasn't bad to run Solder back over and re-tin the tab surface.
I had these little circuit boards made up ( I have about 90 of them sitting around). This makes the wiring on the Connector side easy.  Just solder your new wires into this Circuit board, unplug the Harness from the Flex circuit plug into this board and off you go.  Unfortunately, The wire I used is expensive stuff but a bit too stiff ( Teflon coated) So I couldn't Dress the wires as nice as I would like AND keep enough relief in them to twist out the Sockets when I need to change bulbs. That's why the wiring looks like crap.
With a little effort I can put Diodes on this Circuit board so my Fog lights act like Brake lights  but the Fog switch will only activate the Fogs.  I already wired that in up by my Bulb Failure Sensor So I didn't have to do it at the Sockets.
I found sockets ( $3.00 a piece) that snap into the vacant hole. I am going to wire that one for Running lights.  The entire bottom row will now be Running lights.
<![if !vml]>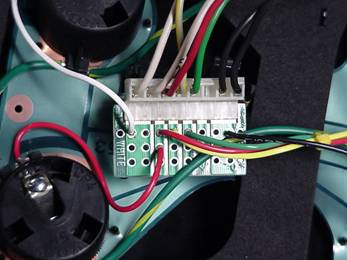 <![endif]><![if !vml]>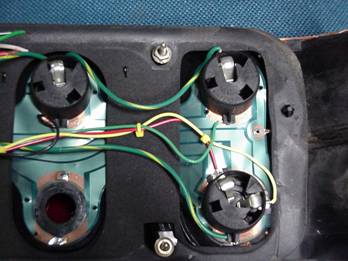 <![endif]>
<![if !vml]>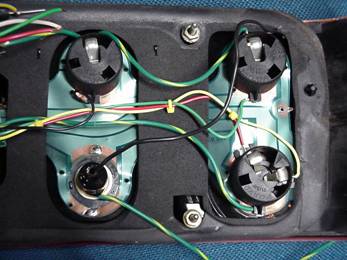 <![endif]><![if !vml]>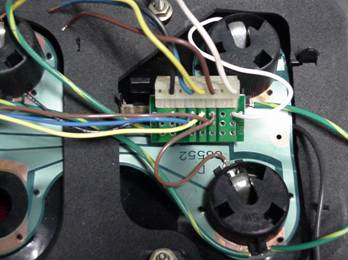 <![endif]>                                                                                                                                                                 
                                                                                                '91
If you want to add to your reference library.
My wiring is slightly different from your doc and also from the haynes.
This what I have
91 240 sedan Made in Sweden edition (we made lots in Canada but not this one)
Port Side
pin #
1    Black                Rev Light
2    Black                Pass side Pin#7
3    open
4    Blue/Green        Indicators
5    Yellow/White    Brake
6    Red                  Run
7    Purple               Fog
8    open
Starboard
1    White/Purple     Fog (but not powered)
2    open
3    White/Brown    Run
4    Yellow             Brake
5    Blue                 Indicators
6    open
7    Black               Rev. Jumper from Driver side pin #2
8    open